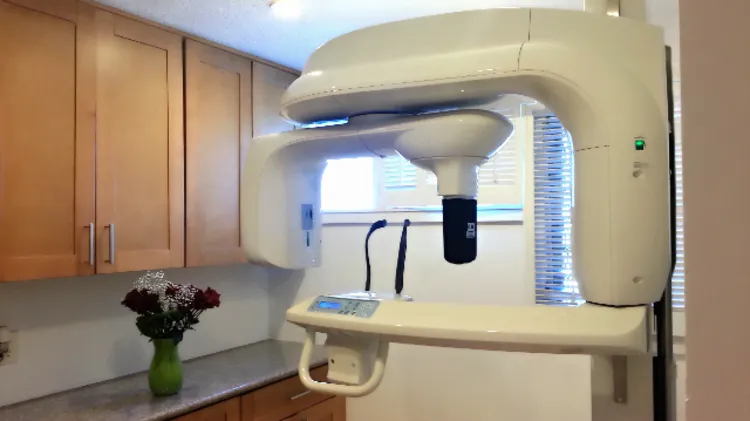 We strive to keep abreast of the newest innovations in dental technology in order to provide you with the safest and most effective treatment options. With this in mind, we regularly utilize 3D cone beam scanning technology right here at our practice.
Our cone beam scanner is a highly useful diagnostic tool which generates a three dimensional image of the jaw, teeth, sinus and neck. More comprehensive and efficient that conventional dental x-ray, a 3D image is produced after only fourteen seconds. The cone beam dental scan provides an exceptionally high image resolution in just a short period of time. You spend less time waiting time for a diagnosis, which means your treatment plan can be determined even faster and with greater precision. Utilizing this unique type of scanner better enables us to quickly assess your dental needs and in considerably less time than you might expect from traditional imaging equipment, which expedites your appointment at no sacrifice to comprehensive care.
As the health and safety of our patients is our highest priority, we only use quality, state-of-the-art equipment like the 3D one beam scanner, which emits the lowest level of radiation while providing a superior image, especially when compared to traditional dental imaging equipment. We are delighted to offer our patients this exceptionally reliable imaging technology with an unprecedented safety rating.
So much more than simple x-rays, 3D technology takes dental imaging to the next level. With the clear view of facial nerves and bone structure provided by 3D imaging, we can customize your procedures to protect your delicate nerve endings, thus minimizing pain and speeding healing. Our 3D cone beam scanner can even reveal sinus issues and aid in the diagnosis of conditions like sleep apnea. We look forward to offering you the finest dental diagnostic imaging available, and invite you to get acquainted with our practice's 3D cone beam scanner at your next appointment!